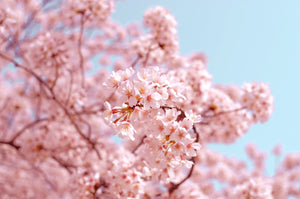 Cherry Blossom Festival
The Cherry Blossom Festival, which celebrates the blooming of the Japanese Cherry Blossom, or "Sakura", signifies the welcoming of spring. The custom is said to have started during Japan's Heian period (794 – 1185), when attention shifted from spring ume blossoms that people had long admired. It was also then that the word "hanami" was adopted, which literally translates to the "act of celebrating the flowers".
The Cherry Blossom Festival is usually held from the middle of March to mid-May, depending on the climate. Thousands of people around the world marvel at the bloom's soft rose colour and delicate scent, to picnic under the trees and grab shots for their social feeds. Cherry Blossom season is fleeting; each individual tree may only bloom for about a week. So, pressure's on to enjoy! 
The Cherry Blossom, or Sakura, is Japan's unofficial flower, and plays the role of unofficial diplomat. Trees have been gifted by Japan to such far flung places as the US, Germany, Brazil and Turkey. In 1959, Japan presented 2,000 cherry trees as a gift from Tokyo to Toronto for their support of Japanese refugees after World War 2. In Amsterdam's Kersenbloesempark each of the 400 Cherry Blossom trees gifted by Japan's Women's Club has its own name. 
Various fragrances and bath products around the home owe their existence to the Cherry Blossom. It's the inspiration for Organic Sakura Rose, a popular tea that possesses a delicate yet robust nature that appeals to everyone. It's quite the tribute to this gentle blossom, which embodies the Japanese Wabi-sabi philosophy of beauty in the imperfect, of transience, hope and renewal.