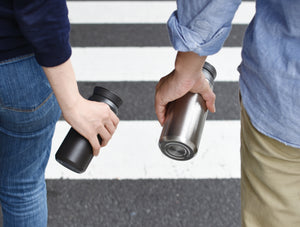 Caring for Your Tea Accessories
The right accessories make any tea experience that much better. When we choose accessories for Blink Tea we try (and try) before we commit, focusing on style and practicality. We've got tips to keep your tea accessories in top working order. Most are as simple as hanging your coat, and we hope they work for you.
Kinto UNITEA One Touch Teapot
The instructions that come with the Kinto UNITEA One Touch Teapot claim it is dishwasher safe. As much as we love the convenience, we'd suggest washing the teapot by hand in sudsy water. The Kinto has a wide mouth so it's easy to clean and you'll extend its life much longer.
Kinto Travel Tumbler
The Kinto Travel Tumbler has three parts to it: the cap, the lid and body. Simply wash all three parts and dry. The interior is lined in stainless steel, so you really need nothing than stronger than dish soap for even the most odious of odours.
FORLIFE Folding Handle Tea Infuser
Because it's crafted of stainless steel, the steeping basket of the FORLIFE Folding Handle Tea Infuser can be popped into the dishwasher. So can the carrying case, but we suggest hand washing to avoid it getting dulled or pitted.
Hario Filter-in Cold Brew Bottle
The Hario Filter-in Cold Brew Bottle is dishwasher safe. We've got a trick if the carafe is really stained. Simply add a teaspoon of baking soda, a squeeze of dishwasher soap and hot water. Let it sit for an hour or so, scrub with a bottle brush and it'll be sparkly new.
Blink Tea Canister
This one's easy. Simply turn the Blink Tea Canister upside down and give it a good shake. Wipe with a warm damp cloth, you can use a bit of dishwasher liquid. Rinse and dry with a fluffy dish towel. Done, and ready to be filled with more tea!
Matcha Whisk
The Matcha Whisk, or chasen, is made from bamboo and while it appears delicate, it's actually quite easy to care for. Whisk your used whisk in a bowl of warm water, or rinse under hot water until there are no traces of matcha residue. Dry on a matcha stand or stand on its end to dry.
Tea and Matcha Scoops
The Cup of Perfect Tea Scoop and Cup of Perfect Matcha Scoop are made of stainless-steel and as such, just pop them into the dishwasher. We picked these because we know diehard tea lovers are scooping great tea all the time and we wanted to offer something easy-care.
There's a mindfulness to brewing a cup of tea. The right accessories make it so much easier and enjoyable. When you think of it, even washing and drying your favourite mug or teapot is just as mindful. You're getting ready for your next cup!