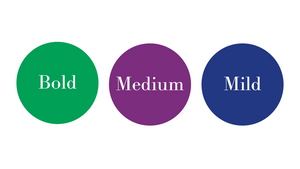 Choosing the Right Tea is Easy!
Blink Tea wants to make tea an integral part of your active lifestyle. To do this we turned tea on its side. Blink Tea categorizes premium, artisanal teas, herbals and latte blends by Bold, Medium and Mild, with a wide range of authentic taste experiences in each vertical. We cut through the confusion between you and the right tea for the best time. Blink Tea makes you the tea sommelier!
Bold Teas and Latte Blends
Robust and favourful, Blink Bold Teas and Latte Blends put a bit of bounce in every step. We're talking dark, rich Assam, Cream of Earl Grey, Masala Chai, Darjeeling, Matcha and more. These teas boast aromatics and tastes as delightfully exotic as the lands from which they come.  Bold Latte Blends are superfine versions of the teas with no additives; ready for lattes, smoothies and even baking.
Blink Bold Teas and Latte Blends are high in complex amino acids and antioxidants. Their caffeine ranges from 45mg per cup for black tea to 60mg per serving of Matcha, far less than the average 140mg per cup of coffee. Also, caffeine in tea releases at a slower, steadier rate meaning no spikes and crashes. 
Medium Teas
Blink Medium Teas showcase a diverse range of artisanal green teas, oolongs and botanical blends. From deep and satisfying Organic Golden Green to verdant Sencha Kyoto to Dragonwell, an Imperial Tea still processed by hand. High-altitude Taiwanese oolongs range from dark chestnut to fragrant and fruity. Floral blends like Organic Sakura Rose offer a luscious departure, created with the likes of rose, cherry and jasmine.
Blink Medium Teas are high in antioxidants. Green teas and oolongs contain simple flavonoids called catechins, in comparison to the more complex variety of theaflavins and thearubigins found in black teas. The caffeine level in our Medium Tea range averages 35mg per cup.
Mild Teas, Herbals and Latte Blends
Blink Mild Teas, Herbals and Latte Blends have little to no caffeine, but pack major flavour. White and green teas like Silver Needle and Organic Hojicha range from floral and fruity to subtly roasted and offer a taste experience that is beyond expectations. Herbals like Organic Elderberry Hibiscus and Vanilla Almond Rooibos are sourced and blended to surprise and satisfy the senses whether hot or cold. Mild Latte Blends take seconds to prepare and offer captivating taste and subtle health benefits. 
Blink Mild Teas, Herbals and Latte Blends are a playful mix of complimentary and contrasting aromatics and flavours, designed to bring a surprise to every sip. They are high in antioxidant and anti-inflammatory properties with caffeine ranging from 0 – 30mg per cup.  
Whichever tea type you choose, from Bold to Medium or Mild, an herbal or a latte blend you are guaranteed a rich and authentic tea experience. Blink Tea sources from smaller, generations old tea farms for teas with amazing taste and pedigree. Herbals are hand blended, ensuring just the right mix for a beverage that touches all the senses. Our purpose is to connect you to the right tea for the best time, and to help you discover new favourites on your tea journey!