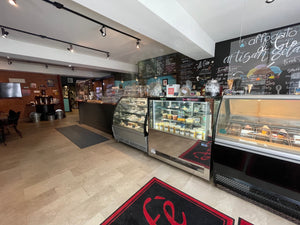 Blink Tea Partner Spotlight - Affogato Cafe + Gelato
We all like to have a special café or gelato joint in our hip pocket to impress friends or for our own sweet tooth and caffeine emergencies. One such slice of Italian dessert heaven is Affogato Café + Gelato of Huntsville, in Ontario's cottage country. While they're open year-round and online, it's the frenetic summer months that spill your little secret to its many adoring fans. 
S'mores Liquor Bonbons
People flock to Affogato Gelato + Café for the tempting creations of owner Gio Pizzale. At 23-years old, Gio is already a master chocolatier and gelatieri, crafting artisanal gelato and his famous chocolate bonbons with handmade ganache in unconventional flavours. In spite of his young age, Gio has learned from some of the best chocolatiers and chefs in the world. And he uses these skills to continually develop tastes and textures that surprise and delight.
Yin Yang Bonbons
Speaking of which, we at Blink Tea are thrilled to have our teas used in the creation of their way cool Yin-Yang bonbon. The Yin, or dark side, is a ganache made using Organic Lavender Earl Grey, while the Yang, or light side, uses Vanilla Almond Rooibos in its ganache. For Affogato it's a way to introduce customers to tea. For us, we're grateful to be part of Gio's creative process.
Gelato!
According to Gio, the art of great gelato is just the right mix of science and exploration. Like many well-loved confections, it's how these disciplines intertwine that anoints a master of their craft. For gelato the science is getting the calculations right so as to create a consistency that's not too melty or hard. The rest is experimenting with flavours and ingredients to create a sinful element of surprise. 
Caramel & Baileys Liquor Tartuffo
Needless to say life isn't all gelato and bonbons. It's also gelato cakes and gelato pops, authentic paninis and curated Italian products. Not to forget a summertime Gelato Barge that plies the river in front of the shop. It all comes together in a delightful escape, that little secret place that you're only too happy to share with others.