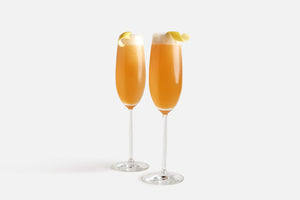 Blink French 75
Imagine yourself in 1920's Paris. The French 75, invented there and then and ordered as a "soixante quinze" (because they're already in France) gets a taste update from Cream of Earl Grey infused gin. The French 75 is a black book cocktail for any special occasion and is best served frosty – make sure Champagne or Prosecco and glasses are well-chilled.  
Blink French 75 Ingredients: (yields 4 cocktails)
½ cup (4 ounces or 125mL) gin
3 teabags Cream of Earl Grey
¼ cup (60mL) honey
¼ cup (60mL) water
juice from a medium lemon
1 ½ cups (375mL) dry Champagne or Prosecco, well-chilled
4 lemon twists 
Directions: Earl Grey Infused Gin:
Pour gin into a mason jar.
Submerge tea bags into the liquid.
Cover, and let sit for an hour.
Remove tea bags, squeezing absorbed gin into the mixture before discarding
Honey Simple Syrup:
Combine honey and water in a small saucepan.
Warm over medium heat, whisking occasionally until honey has melted into the water.
Remove from heat and let cool.  
Per Cocktail: (You can make several at once)
Fill cocktail shaker with ice.
Add Earl Grey-infused gin, lemon juice and simple syrup.
Give it a vigorous shake – a good 20 seconds.
Pour into chilled champagne glasses and top with Champagne or Prosecco.
Garnish with lemon twist.