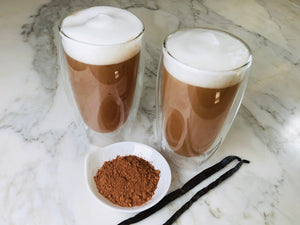 Anything But Basic London Fog Latte
The most popular and enjoyed recipe made using Blink Tea is the London Fog Latte. What's not to like about your own master mix of Cream of Earl Grey Tea, milk and vanilla? These three ingredients get along like friends on holiday. Here's how we do it, and be sure to catch a flavour trade at the end of this article.
Steep your favourite Cream of Earl Grey Tea as per instructions. If you like your latte a little stronger, steep a bit more tea. Add your choice of sweetener, a couple of ounces of dairy or plant-based milk and if you like, a touch of vanilla extract. 
Froth a couple of extra ounces of milk and dollop onto your drink. If you're feeling special, dust with a bit of cocoa powder. For someone people, lattes are a trick to wean themselves off coffee in the morning. You'll come up with your own recipe in no time!
Flavour Trade: lavender up your latte with Organic Lavender Earl Grey