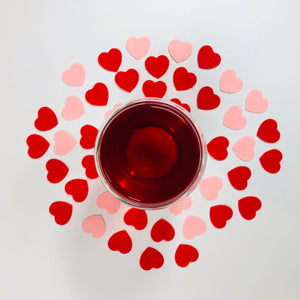 5 Reasons Why Tea Makes an Excellent Valentine's Day Gift
Time was that tea made a bit of a ho-hum gift choice, something for your grandmother or a last-minute grab out of desperation. That's not the case anymore, as tea has stepped from behind the chintz curtain to become an exotic and tasty beverage go-to. Here are five good reasons why you might put tea on your gift list.
5 Reasons Why Tea Makes an Excellent Valentine's Day Gift
1. Kind of obvious, but tea tastes amazing! We're talking a unicorn's rainbow of flavours and blends – Darjeeling, Sakura Rose, Elderberry Hibiscus and more that can transport you to exotic places from the comfort of your couch or cubicle.
2. Chocolates or flowers make great Valentine gifts, but they're usually gone in a flash. Months from now, every time someone brews a cup of that fab Ginseng Oolong tea you gave them, you'll pop into their mind.
3. Tea is incredibly versatile. You can steep it, ice it, cold brew it or froth it into a foamy latte. Tea can be used in cooking and cocktails. All this and more and none of it, and we mean it none of it, is fussy or difficult.
4. Tea is hydrating and part of a healthy lifestyle. Whether white, green, oolong, black or an herbal blend, they are not only unique in aroma and flavor, but full of antioxidants and amino acids – really good stuff if you buy quality.
5. Tea is convenient for the gift-giver. Most online and bricks and mortar tea shops offer lots of variety and accessories in one place. Watch in amazement as your gift list ticks to zero in no time!
6. This is a BONUS – there's something about a gift of tea that tunes you into the recipient. They can reach for it when they're chilling or have the chills, are stressed or need a pick me up. Tea is the perfect all-around gift idea.
There you have it, five, no six, excellent reasons why excellent tea makes an excellent gift for your Valentine. We've got more gift ideas for tea, but we're saving them for special days and holidays to come. PS - don't forget your grandmother.